Instagram stories are the best place to share your content and grow your business. You need to know how to make them more attractive and use the feature properly to make your audiences stay for 15 seconds to watch your stories.
There are so many ways to make your stories beautiful and engaging. You can add gifs to your stories.
The other way to make your story better is by adding location. Yes, locations can be the most important way to boost your followers if used properly.
As you know, adding a location in your posts can help you a lot in gaining more potential followers, but on the other side, stories are important too.
Here we want to discuss why we need to add a location to our stories and also give some tips on how to do it even better. So stay with us.
Why do we need to add a location to Instagram stories?
You can add a location to stories and let your followers know where you are.
You can choose among some special locations like restaurants, landmarks, or you can pick more general locations like a city or a country.
Instagram's location stories are the best way to get more local presentations for your brand on Instagram. This is great for those trying to target a specific area. Adding location to stories can make your story discoverable for the users that search location tags.
Besides these, you can add the location with hashtags.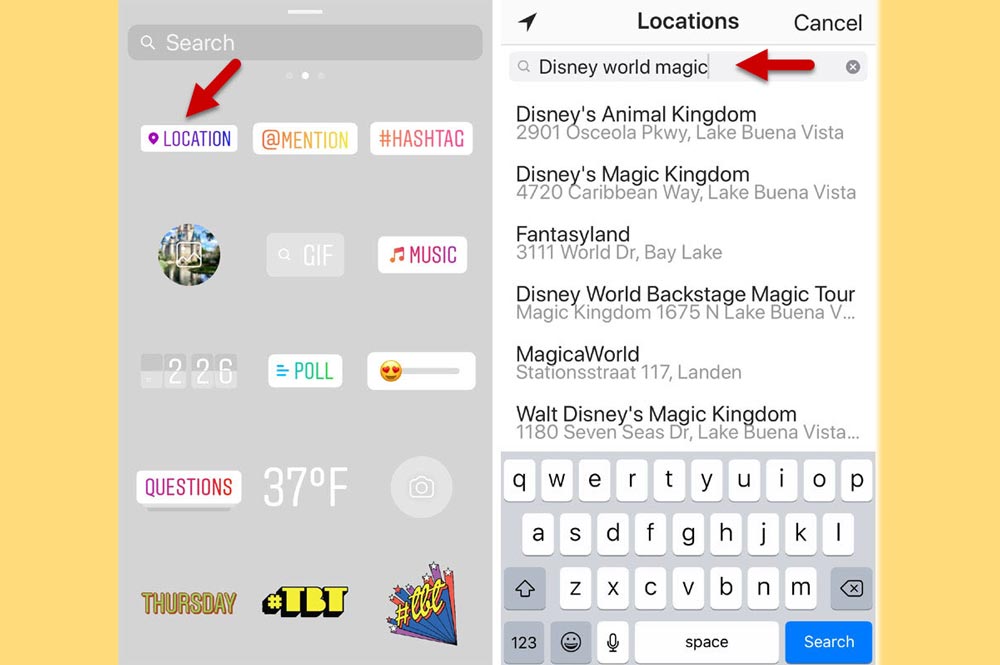 First, let's see how to add a spot, using hashtags and then the location itself.
Add your photo or video in the story section.
Tap on the screen to write a text.
Put a # hashtag first, and then write your desired location.
Or;
Add the hashtag sticker and from there, write your desired place as your location.
How to Add Location on Instagram Story?
For adding a location to the story, follow the steps below:
Navigate to your Instagram home screen and head into the story screen.
Select your desired photo or video from your gallery, or take a new picture or video.
After that, tap on the Sticker icon with a smiley face.
Select the location sticker.
If you have turned ON your location, choose from a list of automatically generated locations.
You can also type in your current location.
Now you have added the location sticker to your story. You can adjust it using 2 fingers to resize or replace it.
If you want to change its colors, tap on the tag and see different colors.
You are done after all of this process, and now it is time to share your story.
In the end
Using location will help you find more followers that are in your area, which is excellent for business owners. All the features on Instagram will help you have constant and attractive posts and stories.
Location is essential for gaining local audiences and boosting your business. When you start using them, you will understand the difference in your engagement rate.