In view of Instagram's modified functionality, particularly in relation to its emphasis on video-sharing as opposed to its previous status as a mere photo-sharing tool, the significance of music has undergone an increase in importance on this social media platform.
Instagram has added the music option to the story section since 2018. You can choose any music you like from this section and add it to your story to make it more attractive.
In the story and reels sections, you can have music or make an original one and share it with other Instagrammers.
Yet there are other ways for adding music to your stories which in this part, we will explain and give you the structures.
Let's see how many ways we can add music to our story? Music sticker, Spotify, Sound Cloud, and in the end, we recommend 2 ways, so let's started.
How can you add music to your Instagram story?
Instagram has this adding music feature in the story part. No matter whether you are an android user or an iPhone user, all you need to do is update your Instagram app, and that's it.
In this part, we go through how you can add your favorite music to your story and enjoy it. First, let us start with the music sticker itself.
This is one of the most popular options on Instagram. Adding music directly to your story. Instagram updates and adds music to its music library, so you have lots of tracks that you can choose from.
Here is how you can use the music sticker in your story:
Open the Instagram app, and go to the story section.
You can swipe right in the feed or tap on your profile picture to open stories.
Now you need to choose your photo or video from the lower left side of your screen.
After selecting the photo/video, tap the smiley sticker icon on your screen.
In the menu, you can find the "Music Sticker."
After tapping on the sticker, you will see the suggested music. If you want another one, you can search for the name of the music in the search box.
Tap on your favorite music, Move the slider bar and decide which part of the song will be in the story (you can choose only 15 seconds of the song).
You can select the font of the lyrics, or you can set its cover instead of the lyrics.
There is a color option on the upside of the screen, and you can customize the music the way you want.
Finally, tap on "Done" to finish the process. Now the lyrics or the cover are on your story, you can move it anywhere and adjust it based on your photo.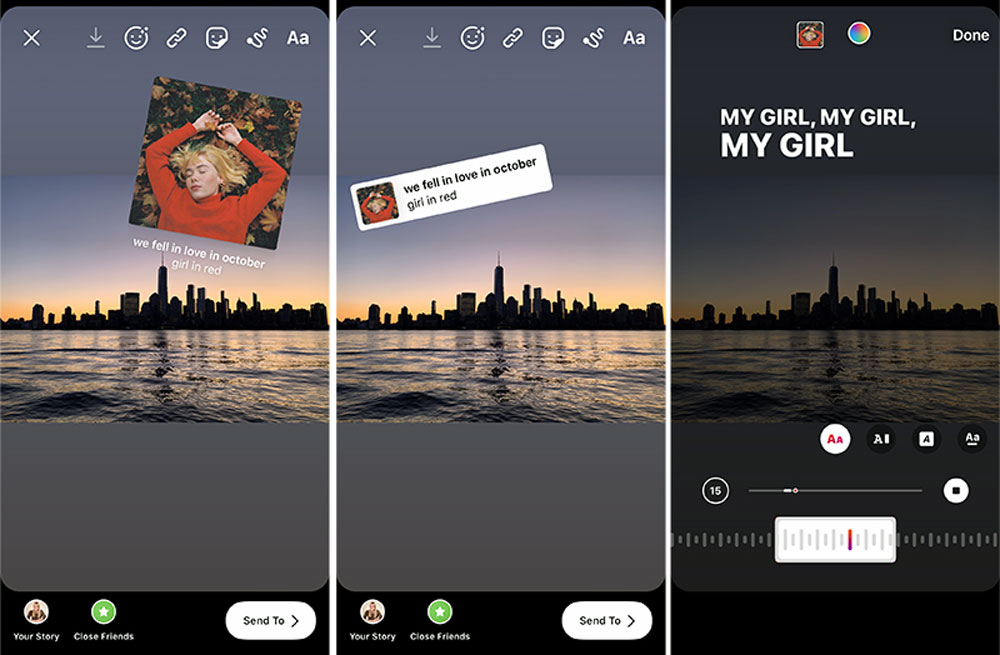 In the end, tap on "Your Story" to post it on your Instagram account and share it with your followers.
Spotify, this fantastic app, is one of the most popular apps for listening to music. You can find all the singers, bands, and any kind of music on it.
Lots of people spend so much time on this app. So consider you have found a great track on Spotify, and you are willing to share it on Instagram.
Navigate to Spotify and open the app.
Search for your favorite music you want to share.
After tapping on the track, in the upper right corner, tap on three dots, and find the "Share" option.
Tap on the Instagram icon, and it will lead you to your Instagram story.
After that, you can tap on "Your Story" and share the track with your followers.
This is one of the most used and common ways people share music in their stories.
Now let's move on to the other app, Sound Cloud. After Spotify, you can use Sound Cloud to share music in the story of your Instagram account; if you like to learn how just follow the steps below.
Open the app, and search for the song you want to share.
After tapping on the track, you can see the share icon at the bottom of the screen.
Tap on that and choose "Stories."
It will again lead to your story section, and from there, you can share it with your followers.
The process of sharing music on these two apps is a bit similar. So you won't be in trouble.
Record video along with music
If you want to have sound in your story, and you don't want to use the music sticker, or it is unavailable, this method will help you.
Form your playlist on your phone, and choose the song you want to share on your story.
Open the Instagram app and then go to the story section.
Now play the music from the notification bar and then start recording the video in the story section with the Instagram camera.
After you are done, you can edit the video you have taken by adding filters or gifs and stickers and then share it on your account.
This is for the users who don't want to use the music sticker or it is not available for them. But keep in mind that it will record all the voices around you, so it is better to play music in a quiet place and then start recording.
Add music to your photos/videos using third-party apps
Using this method is beneficial not only for the story it is even great to share a post on Instagram. If you want to attach music to a video and upload it as a post, you must edit your video beforehand. You can even share this on the story.
Many third-party apps are helpful, but here we recommend Inshot. This app is user-friendly, and it is one of the most feature-rich apps for editing videos. Also it is available for Android and iOS.
How to use the Inshot app?
Run the app and select the "Video" option, then "New."
Select the video you would like to edit from your gallery.
Find the "Music" button in the left corner. And Select "Tracks."
Select a track. You can choose from featured music, select music from your files, or extract audio from another video.
Edit the timing or other settings associated with the audio by tapping the bar with the track's title at the bottom of your screen.
When you're done, tap your finger on the checkmark. Choose "Export" at the top of the screen.
Finally, Select your resolution and tap on "Save."
These were the most common 5 ways to share music on your story in the Instagram application. Use each one you like, and you are more comfortable and share your favorite tracks on Instagram.
As a result
Many people enjoy sharing music on Instagram because it's fun. It's important for singers, songwriters, and other musicians to share their music with their fans.
You have lots of options to share and add a song to your Instagram story. In this part, we have discussed 5 of them. These are so easy and make your stories even more attractive. So we hope you use them and tell us which one you prefer the most.